Technology
It is the Department's aim to provide a very safe, friendly, happy working environment, where every student can achieve his/her full potential. Design and Technology equips students with 'real life' skills and knowledge, which will enable them to contribute to an increasingly technological society.
At KS3 there are 4 specialist areas: Food, Textiles, Graphics and Resistant Materials.
Students are assessed for skills shown in communicating their design ideas and the quality of the products they manufacture. They cover five project strands of Research, Design ideas, planning of Making, Making and Evaluation. Pupils work to set design briefs and also carry out focussed practical tasks and learn a wide range of technical and creative skills
At KS4, students build on the skills they have developed and can opt to study one of the following specialist subject areas: GCSE in Resistant Materials, GCSE Graphic products or a Vocational award Level 1/2 in Hospitality and Catering
At KS5 there is an opportunity to further build on skills from KS4 through the study of A level Product Design
KEY STAGE 3 OVERVIEW
Design & Technology
KS3 Curriculum
Key stage 3 students will study Resistant Materials, Textiles and Food within the Design and Technology department. Students are taught in mixed ability groups, mixed gender.
Assessment
We use a range of assessment strategies to mark, assess, feedback and track our students:
STICKERS – After each rotation students get a sticker stating their Designing and Making levels. These are collected and allow each student to track their progress across all subject areas.
MARKING - folder work/practical is marked every two weeks and moderated every month at DMT
TRACKING SHEET – we have a tracking sheet set up on SIMS specifically for our department to track the progress of students across each subject area. It also assesses QWC and IL (Independent Learning aka homework).
PROGRAMMES OF STUDY TRACKING SHEETS on SIMS linked to the national curriculum are now used in year 7 and 8 and to be introduced in year 9 from Sept 2018.
Assessment for Learning
Students are required to peer and self-assess their work in every TVA lesson. They use green pens to do this and it can be tracked through their folder work.
Often we use post-it notes to give feedback and display them near or next to the level climbers we have on display.
We are aiming to implement a no-hands policy in DT and use techniques like randomisers and lolly sticks whilst still planning appropriate questions for each child's ability. We aim to use a range of questioning techniques within all of our lessons, structuring our questions through Blooms Taxonomy.
YEAR 7
Year 7 Resistant Materials
In Resistant Materials, we aim to explore as many materials and manufacturing processes as possible, whilst holding design and creativity central to all learning. In year 7, students undertake a desk tidy project.
Students work with acrylic, mdf and wood and use processes such as line bending and drilling to create their products. Their work is then assessed using a range of criteria based on their design and making skills.
Desk Tidy

Year 7 Food Technology
Students are introduced to the subject with two lessons per week looking at Basic Food Skills. This includes Food Hygiene and Safety as well as introduction to basic tools and equipment. The course follows a theme of learning new skills in order to prepare foods that are interesting and delicious. Practical lessons vary between weekly and every two weeks depending on the planning and preparations needed for students to fully understand a topic. Food items produced in this lesson includes: Healthy Milkshakes, Pasta and Sauces, Pizza and Cookies.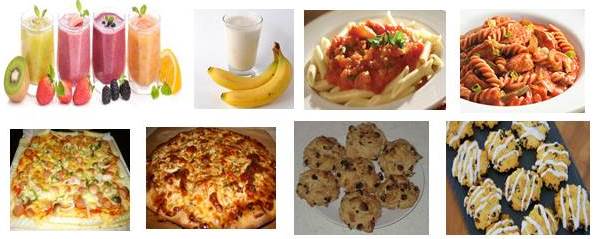 Year 7 Textiles Technology
Students are introduced to the basic textiles skills needed to complete a design and make project and learn the basic equipment used in textiles as well as safety measures to follow in the workshop. Students are informed of the different ways to add colour and design to fabrics in order to design and make face mask that can be used by a child to be worn to a party for children or for a costume show while showing creativity and flare.

YEAR 8
Year 8 Resistant Materials
In year 8 we introduce students to 2D design, which is a CAD (computer aided design) piece of software. Students are encouraged to develop their CAD skills at a young age, as these skills give students the ability to explore more creative ideas and open up pathways to otherwise unavailable manufacturing possibilities.
We are lucky enough to have a laser cutter in the department and through this Photo frame and door name project, students learn how to set their work up and use the machinery available to them.
Here are some examples of Year 8 work:

Year 8 Food Technology
Students are introduced to the idea of designing new foods. They learn about function of ingredients and food presentation as well as reiterate food hygiene and safety in the kitchen. Practical lessons are bi-weekly. Students will work on a diner style menu which includes shepherds pie, beef patties, sticky toffee pudding and fruit crumble.
Year 8 Textiles Technology
In year 8 students will design and produce a 2 layer repeat print based on Celtic designs.
Students will learn about Celtic designs, the tie-dye process, the different types of repeated designs and how to create a reduction print block, and will create their own printed textile.
YEAR 9
Year 9 Resistant Materials
In year 9, we expect students to be able to combine a range of traditional manufacturing skills with new CAD / CAM processes. Using a range of manufacturing processes, students are challenged to design, package and market a bottle opener and are given a choice of client to design for, be it children, teenagers or adults.
Bottle Opener and packaging

Year 9 Food Technology
In year 9 we will be concentrating on cafe food and treats.
The dishes we will be working on are omelettes, quiche, waffles, pineapple upside down cake and crumble pie.
Year 9 Textiles Technology
In year 9 students will design and produce a collaged and hand embroidered window hanging. Students will learn about Zentangle and Mandala designs, will make their own collaged textile, and will embroider it with a range of stitches and colours based on their designs.
KEY STAGE 4 OVERVIEW
WJEC Level 1/2 Vocational Award in Hospitality and Catering
Overview
The hospitality and catering sector includes all businesses that provide food, beverages, and/or accommodation services. This includes restaurants, hotels, pubs and bars. It also includes airlines, tourist attractions, hospitals and sports venues; businesses where hospitality and catering is not their primary service but is increasingly important to their success.
Who is this qualification for?
The WJEC Level 1/2 Vocational Award in Hospitality and Catering has been designed to support learners in schools and colleges who want to learn about this vocational sector and the potential it can offer them for their careers or further study. It is most suitable as a foundation for further study. This further study would provide learners with the opportunity to develop a range of specialist and general skills that would support their progression to employment. Employment in hospitality and catering can range from waiting staff, receptionists and catering assistants to chefs, hotel and bar managers and food technologists in food manufacturing. All of these roles require further education and training either through apprenticeships or further and higher education.
What will the learner study as part of this qualification?
The WJEC Level 1/2 Vocational Award in Hospitality and Catering is made up of two mandatory units:
Unit 1 The Hospitality and Catering Industry
Unit 2 Hospitality and Catering in Action
Learners must complete both units.
This structure has been designed to develop in learners the knowledge and understanding related to a range of hospitality and catering providers; how they operate and what they have to take into account to be successful. There is the opportunity to learn about issues related to nutrition and food safety and how they affect successful hospitality and catering operations. In this qualification, learners will also have the opportunity to develop some food preparation and cooking skills as well as transferable skills of problem solving, organisation and time management, planning and communication.
Through the two units, learners will gain an overview of the hospitality and catering industry and the type of job roles that may be available to assist them in making choices about progression. Successful completion of this qualification could support entry to qualifications that develop specific skills for work in hospitality and catering such as:
Level 1 Certificate in Introduction to Professional Food and Beverage Service Skills
Level 2 Certificate in Professional Food and Beverage Service Skills
Level 1 or Level 2 NVQ Diploma in Professional Cookery
YEAR 10 AND YEAR 11
From September 2019 we are offering The WJEC Level 1/2 Vocational Award in Hospitality and Catering. Details are in the key stage 4 overview.
KEY STAGE 5 OVERVIEW
A-Level Product Design (AQA)
At A level we look at real products and inventions and understand how they have impacted on the way we do things. Working closely with the design museum, students research a range of designers, Materials and Products. This research is then used to stimulate creativity and design a product that can be used to solve a problem. A visit to the design museum and a workshop help students understand how to think like a designer and create real solutions to real problems.
What skills students will need to succeed:
Good design skills and understanding of materials and manufacture.
You MUST demonstrate a commitment to the subject by being self-motivated and not be constantly dependent on help by the teacher. It is recommended that you attend the weekly GCSE workshop after school each week.
Be organised - You MUST meet all the necessary deadlines for the 50% course work.
You are expected to assess and evaluate your own work and that of others.
You will produce a portfolio of research, design work and evidence of practical tasks.
You will manufacture a working product or a prototype model.
Your research MUST show evidence of specialist vocabulary.
YEAR 12
A2 - Product Design (AQA)
Design Brief: As a product designer, working for Habitat, you are to design a piece of multi-purpose, space saving furniture. Your designs must match Habitats modern and minimalistic approach to design. You should also aim your products at first time buyers, considering low cost materials and methods of batch production to reduce manufacturing costs.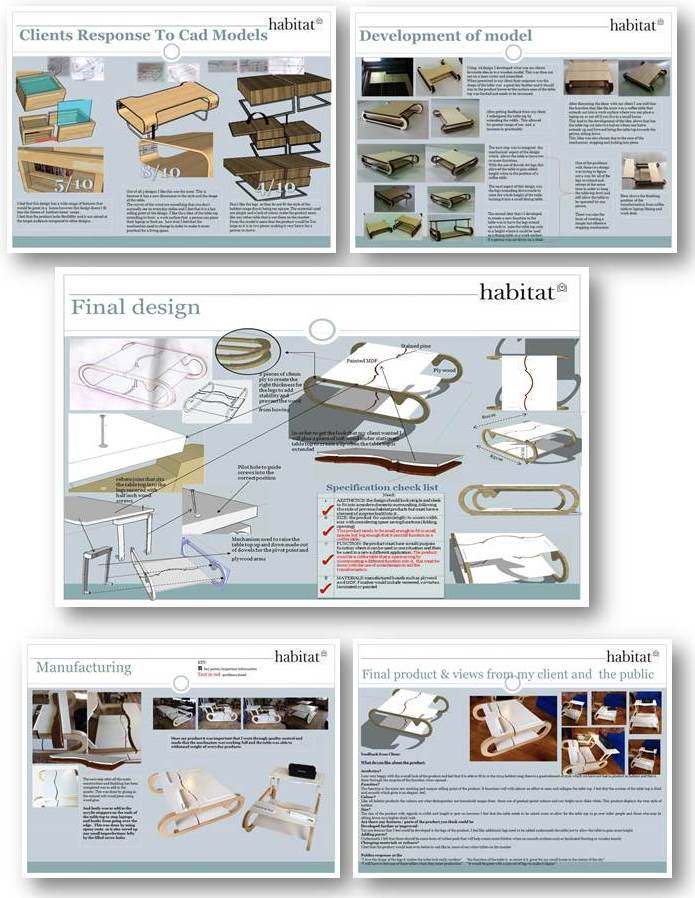 YEAR 13